I'm usually a fan of fast, filling meals and I rarely spend more than 45 minutes on anything but for this dish, I make an exception. Ratatouille needs time and lots of it but the melt in the mouth vegetables are more than worth it. I like to make big batches as it keeps for up to a week, tastes divine cold and reheats well. I tend to make it on the weekend and then just eat it throughout the week.
Cooking time: 30 min + 2 hours in the oven = 2.5 hours total (trust me, it's worth it)
Serves four people
Ingredients:
5 peppers (I only used four but mine where huge!)
6 cloves of garlic
2 onions
10 tomatoes
1 tbsp of balsamic vinegar
2 aubergines
1 courgette
a few sprigs of fresh thyme
a liberal hand with olive oil (at least 6 tbsp)
Preheat your oven to 200 °C
Put some water in a kettle and bring to the boil
First, we are going to skin three of the peppers. Keep the other two, we will need them later! This is not strictly neccessary but I find that it makes them boil apart nicer and the sauce comes out much creamier. Cut your peppers in half and deseed them, then place them on a baking tray, cut side down and put it all in the oven.
Wash six of your tomatoes and cut a shallow cross into their skin.
By now, your water should have boiled. Pour it over the precut tomatoes and wait for 2-3 minutes. You should now be able to easily pull of the skin. Set your skinned tomatoes aside for now.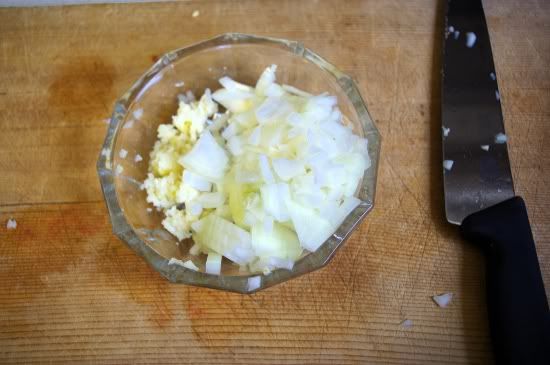 Alright, enough preamble. This is where we really start: Chop your onions and mince four of your garlic cloves. Put two tablespoons of olive oil in a large frying pan, add the garlic and onion and cook until soft.
In the meantime, chop your skinned tomatoes and once the onions are done, add them to the frying pan. At this point, also add your thyme but keep a 2-3 sprigs for later.
Now it is time to take your peppers out of the oven and turn it down to 140 ° C. By now, the skin should have blistered and possibly turned brown. Grab an knife and pull it off, just like with the tomatoes. Then chop the roast peppers and add them to the frying pan. Simmer the mix for 5 minutes.
If you have not skinned your peppers they won't be as nicely precooked so I recommend that you simmer it for at least 15 minutes so they become soft and the sauce thickens a little.
Add the balsamic vinegar and then take the sprigs of thyme back out. Season to taste. Pour everything into a large ovenproof dish and spread evenly.
Cut all your remaining vegetables (excluding the extra garlic and thyme) into slices that are about 1 cm thick.
Here comes the fun part: Layer your vegetables on top of the sauce in a pattern like the one in the picture.
Now, crush the remaining garlic, roughly take the thyme leaves off the brances and mix it with the remaining olive oil. I use at least four tablespoons at this point. Sprinkle the oil with the spices over the vegetables.
Cover your dish in foil ( which I forgot to do when taking the pictures) and place it in the oven for 1.5 hours at 140 °C. Occasionally check the progress, at which point I tend to drizzle on more olive oil but I'm sure it will be fine without as well.
After 1.5 hours in the oven, remove the foil and put it back in for another 30 minutes.
Serve with some nice bread, a good red wine and possibly a side salat. Alternatively, put it on Couscous, mix with Pasta or boil some potatoes.