It's definitely time to pack away the winter decorations and as much as I loved my
snowflake lights
, I am craving some colour here. However, there are still many dark hours in the day so I'm not quite ready to really pack away my bunch of twigs with the fairy lights yet. So, I decided to give them a little twist, with a bunch of bright origami birds to add some much needed cheerfullness.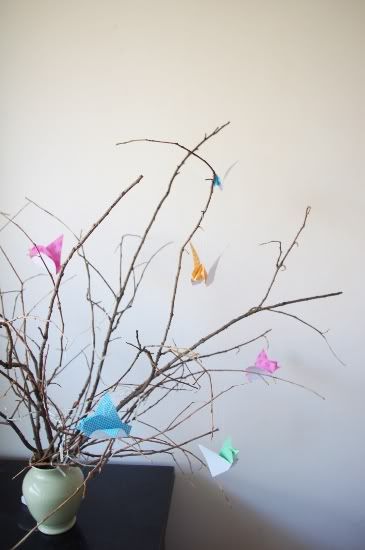 I got the instructions for the birds from my origami calendar so I can't type them out here but if you want something similar, there are many good sources on the internet such as
here
,
here
,
here
and
here
. Then just take some white sewing thread and a needle, double the thread, tie a big know into the end and punch it through your bird in a position that will keep it more or less level. Use the thread to hang it onto the branches.