Last weekend I ended my second summer internship by accompanying my boss to a trade show called "Lifefair". It's topic was a sustainable and environmentally friendly life.
I worked for an internet marketplace selling all sorts of products produced under fairtrade conditions, made by handicapped people, made by unemployed people or produced on small organic farms. It's called
faircustomer
. I loved working there. It's a small company but it was good fun. I got to reorganise the website and in the end, go to this trade show with them. I had never been to one before, let alone representing a company and it turned out to be so much fun.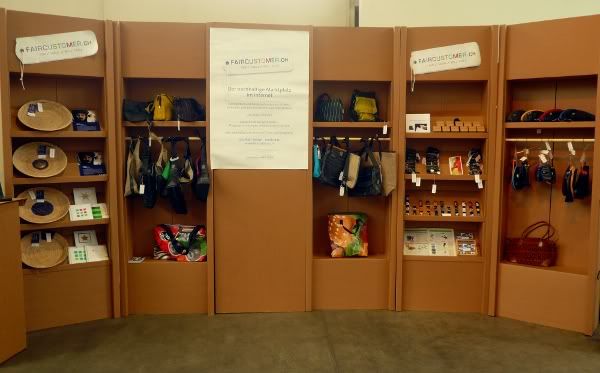 It was the first time in my life I had to sell something and I really learned a lot. I'll probably have the phrase "May I offer you one of our cards? We are an internet marketplace selling ..." stuck in my head for weeks but it really was a good experience and I enjoyed it so much more than expected. Smiles are key and leaving people some space is too. And also, standing for about 8 hours a day is a lot more straining than expected.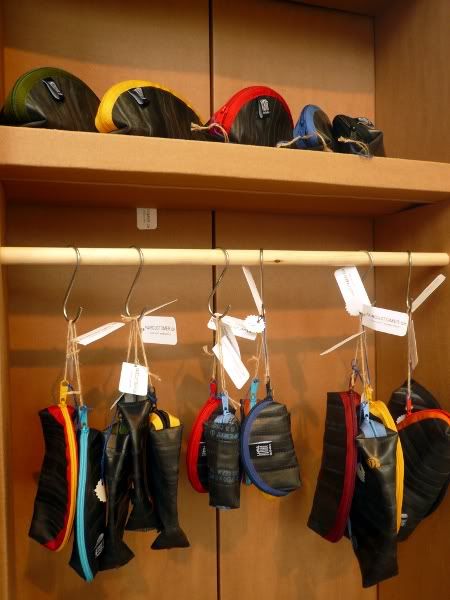 These were my favorite products. They are made from old bike tires by a company in St. Gallen called "Kleika": The medium size turquois one on the left now houses my make-up.A little reminder of the experience, the smiles, the people and the sore feet.
I think my favorite part of the show was this old loom, standing a few meters on our right.
It represented
Tessanda
, of the last factories in switzerland were fabric is woved by hand on wooden looms. Isn't it gorgeous? I just stood in front of it, gaping at it, for hours and hours. The weaver probably thought I was insane.